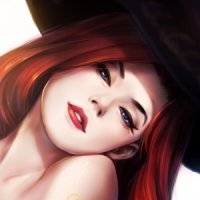 - 26 Jun 2018, 11:49
#11456
James didn't look away despite the pain he felt in his chest when he saw Lily's beautiful eyes well up with tears. He listened to what she had to say, hoping she'd give him an answer to his question, hoping she's give him a reason to break things off with Meiriona....but she didn't.

She was confused, indecisive, and... afraid?

And as much as James wanted to comfort her and confess his feelings, it wasn't enough of a reason to jeopardize his relationship with his current girlfriend. He cared for her dearly. Meiriona made him laugh and accepted him for who he was...and who he wasn't.

But what he felt for Lily was painfully raw. It was real. He just wanted the pain to go away.

"You really don't get it, do you?"

Unable to help himself, James stepped up to Lily and tenderly cupped her face with his hands. He found himself leaning in until their noses brushed together, and their lips were but a breath apart. He somehow found the strength to resist kissing her. "You ARE the good thing in my life," whispered James, "All I want, all I've ever wanted, was to be the good thing in yours."

Hazel eyes flicked up to stare into emerald green. His reserve was slipping away. He needed to distance himself from her before he did something stupid. "But I'm also not a cheater and I care about Meiriona."

He dropped his hands and took a step back. James let out an uneven breath.

"Just....let me know when you've figured things out..."

He took another step back, distancing himself further from the redhead who already laid claim to his heart. If she didn't want to give up hers, James decided, then he desperately needed to get his back. He wasn't about to risk losing Meiriona over someone who was unsure of the their own feelings.

"I... I need to go...I... need to find Meiriona." James turned away.

Lily felt like she had been punched in the gut. She had felt her heart leap as he cupped her face, had wanted so much to kiss him, and then he pulled away and the spell was broken.

She watched him, her cheeks suddenly wet, but when he spoke again, she felt that punch once more. She opened her mouth, but nothing came out, and when he turned away, Lily shook her head.

Everything made sense, all of a sudden. The years of torment. The effort to do whatever it took to make her happy. The size of his heart. Lily felt numb.

"James, I..." she trailed off, not sure what to say. Her heart felt like it had just been broken, and she didn't know why.

Then she shook her head. "Never mind," she said, choking back a sob before turning on her heels and running back towards the castle. She couldn't be around James right now. She couldn't be around anyone right now.

James anxiously waited for Lily to finish her sentence.... but the words never came. He stared wide eyed as she fled, a moment of fight or flight response stirring within him. James wanted to chase after her, but he didn't. He wanted to find her and convince her that everything was going to be okay between them, but he couldn't.

James watched as Lily's form became smaller in the distance, completely unaware of the consequences he would later face for not chasing after her, oblivious to the series of events that were now set to take place in an alternative timeline…..
" 'Harry Potter' gave me back self respect. Harry gave me a job to do that I loved more than anything else. "