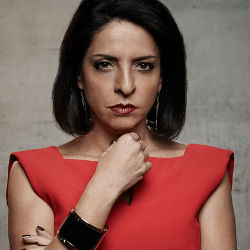 - 26 Jul 2019, 11:24
#29406
My Name or Nickname:
Kay
OOC Account:
Kay
Quills Account(s):
Vera Hadley
NAME: Flavia Maria Arcuri
CHARACTER TYPE: Witch
DATE OF BIRTH: January 1st 1949
PRIMARY ERA: Reformation
BIRTH COUNTRY: America
CURRENT RESIDENCE: Chicago, Illinois, USA
OCCUPATION: Financial Analyst, Gringotts American Branch

What is the concept for your character?
A financial analyst looking to gain influence in the political world. All in the best interest of her clients of course…
What other eras will they be active in and what will their job be in each era?

Golden: Financial Analyst, Gringotts American Branch
Legacy: Financial Analyst, Gringotts American Branch

What does your character look like?
Dark hair, dark eyes, dark soul? Flavia is a suave and poised woman who isn't afraid to use her sex appeal to her advantage. Always sporting tailored robes, Flalvia wouldn't dare leave the house without following the latest beauty tips.
Where can we find your character when their story first begins?
In a little café partaking in an off-book meeting with Minority Leader Ava Darlington. Hopefully, she can win the woman's trust or at the very least make a good impression.
Who is someone from your characters past who influenced who they are today?
Her father who's bitterness over his brother inheriting the family business rather than himself rendered completely useless. Flavia knows better than to let negative feelings control her. If anything she uses them as fuel to feed her ever-growing ambitions.
What is something your character wants but does not have?
A pawn in congress. While she fairs well with municipal politicians Flavia would greatly benefit from gaining influence among those who take decisions in Magical Congress. It's a good thing her family has been long-time contributors to the Cloaking Party isn't it?
What is your character doing now to work toward their goals?
She will let her money talk. If the Cloaking Party values her support they will certainly take the time to listen to her.