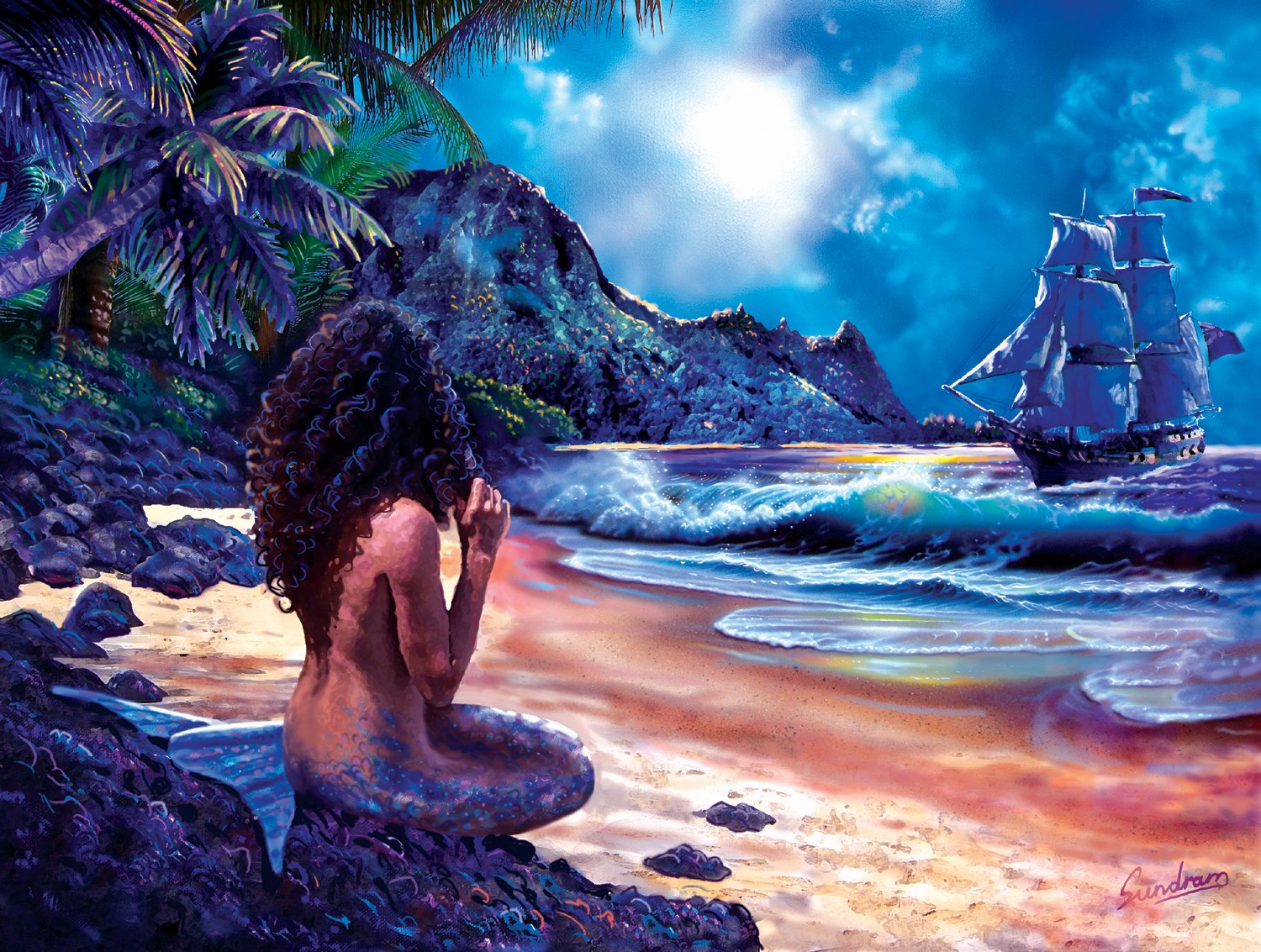 Nimiah watched from afar, hidden behind a rocky cove that had been thawed out by weathering and explorers. Her eyes were wide with both fear and wonder at the sights, her fingers pressing into the rock. A particularly loud crash came from the scene, causing Nim to duck below water for a moment, peeping back up so only the top of her head and dark brown eyes were visible above the surface. Curious, she dipped below the waters rim again, using her glossy tail to propel her forwards to another alcove to get a better look.
Ahead were two ships; one had plunged itself into the other, and used planks to board. The beings on board pointed sticks at each other, throwing green bursts of light toward the others; one group seemed to be wearing rags, and the others seemed to be donned in gold and navy uniforms. In front of her eyes, she watched bodies fall from light itself, some crashing into the water.
Once again, she dipped below the surface, and watched the far off creatures sink lower, lifeless and still. Nim had heard stories of these
humans
. They were able to command the world around them with sticks, and Nimiah needed to know how. Tentatively, she began to near, hearing the yells and screams. Afraid she'd be seen, she once again retreated underwater, nearing ever closer to the brawl on the ships.
"Be a seeker of everyday magic"
This season, I have roleplayed with:
Aidan ⋆ Arsene ⋆ Bathdub Mermaid ⋆ Dizzy Izzy ⋆ Ejder ⋆ Maki ⋆ Peyton ⋆ Susan
Wanna RP with me? PM me, jump in an open thread, or @ me on Discord!!<3