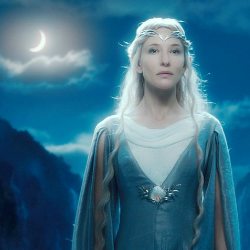 - 14 Jul 2019, 01:23
#28578
Viktoria Klein★ Witch ★ Designer
Walking alongside Elyse on the wet sand, she dug her toes into it with each step as she watched the waves roll in and then out, tickling her ankles as it went. She had walked this beach nearly every day since coming to Monterey nearly two weeks ago, but she had yet to do so with Elyse. Usually they would just walk a little, find a place to sit and then spend the time relaxing and swimming.
This evening was a little different, the sun was going down, casting a brilliant orange hue across the expanse before them and it seemed they didn't have a set destination in mind. They just walked until Elyse spoke and then Viktoria slowed to a stop. Through her dark tinted glasses, she gazed at the blonde woman who was walking in the water a little off to her left.
"You didn't," She replied as she licked her lips, "I like talking to you."
• I amar prestar aen. The world is changed. Han mathon ne nen. I feel it in the water.
Han mathon ne chae. I feel it in the earth. A han noston ned 'wilith. I smell it in the air.
Much that once was is lost, for none now live who remember it. •