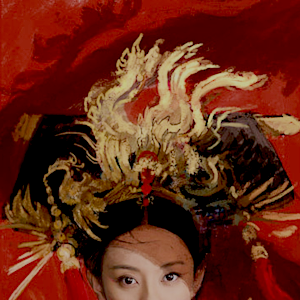 - 22 Mar 2019, 13:40
#23815

Meet the (previously? still?) married couple who gave birth to and raised your favourite triplets.
Believe me, the Arundaels were shook the day they found out they were expecting three spawns instead of the one.
(That wasn't the deal.) But of course, they took it in stride like a champ and moved down to a lovely cottage in Waddlestone Village.
It was picture perfect. Just like their love story, which the kids have been told many times in front of the fireplace and by various family friends.

✤

Henry Arundael was your average English boy on the Clapham Omnibus.
Born to muggle parents in 1956, he was never quite sure what really is there in the wizarding world for him.
It was tough—all that lying, and hiding, from family and friends back home. Was it really worthwhile continuing after graduation?
Maybe it was better to choose between the two worlds. Until he didn't have to. Because her parents didn't. They chose each other.
And in either world, he would always choose her. He married her right out of school because it felt right, even though everyone wondered if it was.

✤

People always smiled and told her it wasn't possible, but Eirlys Arundael knew otherwise.
From the bottom of the heart, she knew they were wrong. Just look where she was, what she had.
It was going to be him, she decided, from the moment they were paired up during Potions and she nearly dropped her wand into the cauldron.
He plunged his hand right into the potion and apologised for not catching it sooner. She laughed. They were made to redo the entire thing.
And then when they were fifteen, she asked him to date her. He never stopped since. Until he did.

✤

Henry loved his family, just the way he loved his parents. When the little ones came, he took two jobs so his wife could take a break.
Sometimes he got in trouble for spoiling the girls too much; but he couldn't help himself. They had him putty in their little hands.
Other times, he turned punishments with his son into a camping trip in the backyard. He's that kind of dad.
Sometimes some phantom mechanism in him yearns when he sees children on the street. Especially the teenagers.
He doesn't understand. He doesn't even have a wife.

✤

When the Inquisition Committee finally called on him, she didn't want him to go.
'Come home,' she pleaded at the door. 'I will,' he said. They both knew it was an empty promise.
The Ministry said that there was no record of a Henry Arundael being released from any of the muggleborn internment camps.
But there was no record of a Henry Arundael dying in the camps either. There's no record of a Henry Arundael anywhere.
Still, she listens to the Wireless and scoured the Daily Prophet everyday. She was listening for his name. She's not sure what she's listening for anymore.
I have long wanted to have the Arundael parents in play, because I am fascinated by the potential of their story.
Namely, Henry's disappearance during the War is a mystery that I do not wish to solve on my own. (What's the fun in that?)
I may yet play Eirlys, however, if no one else is interested in her. Do not let this deter you from expressing interest if you are.
Most things are fairly negotiable: their respective jobs, their names, and their face claims. I listed down Hugh Dancy and Rose Byrne for now.
Really, please, talk to me. There's nothing that can't be worked out.
Make Susan and I really, really happy to finally have Cris' and Lorelai's parents in game.