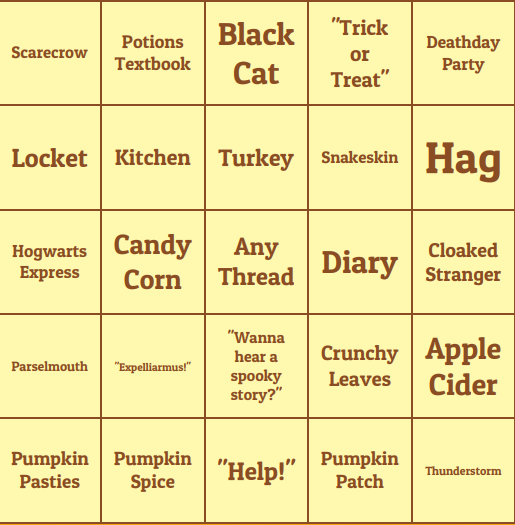 Code: Select all
[b]Row 1:[/b] Scarecrow / Potions Textbook / Black Cat / "Trick or Treat" / Deathday Party

[b]Row 2:[/b] Locket / Kitchen / Turkey / Snakeskin / Hag

[b]Row 3:[/b] Hogwarts Express / Candy Corn / Free Space / Diary / Cloaked Stranger

[b]Row 4:[/b] Parselmouth / "Expelliarmus!" / "Wanna hear a spooky story?" / Crunchy Leaves / Apple Cider

[b]Row 5:[/b] Pumpkin Pasties / Pumpkin Spice / "Help!" / Pumpkin Patch / Thunderstorm 
What is RP Bingo?
The most fun game of bingo and the best roleplaying challenge all rolled into one! Complete threads that involve the objects, words, or phrases from each of the bingo squares in order to mark off five in a row from your bingo card.
Bingo cards run from the first of each month until the last of each month, so you'll have plenty of time to complete threads, and if you don't like the offerings from one month's bingo card, you can always try again next month! You can complete the bingo on each
character
that you have, too, so that's an opportunity for a lot of rewards!
Completing Threads
Each thread may contain multiple prompts, but no more than two per thread may be counted for bingo. Feel free to include as many as you'd like, though, so you can help others mark off their cards too!
Squares that include objects such as a quaffle, ice cream cone, robes, etc must include the actual object in the thread. Just mentioning it does not count!
Squares that include a spell must show the spell being used in the thread.
Squares that include a quote ("Gadzooks!") must include a character saying that phrase.
Squares that include a person (brunette, Gryffindor, adult) must include a character meeting that description in the thread, even if they do not stay for the entire thread.
Squares that include a place such as America or Flourish & Blotts must take place in that location.
Threads must be at least 15 posts to count for RP Bingo submission.
Threads can be archived as normal, but must be completed in the season that the bingo card begins.
Marking Off Your Card
Copy the card image and mark it off in an image editor such as imgur, or use the provided code to make a text list. Please do not post your card until you have completed at least one square, to keep things tidy and fair to other players.
Once you are finished with a thread, use the URL bbcode to link to that thread in the appropriate square.
Underneath your card in your reply, make sure you list how and why the threads you have linked meet the requirements for that bingo card square.
Calling Bingo!
Winning bingo cards will be tallied up at the end of the month when each card is retired.
Winners will receive a curio cabinet item and 15 Quills in addition to any rewards they may have received for completing the threads they used for bingo.
Other Rewards
If you complete five squares that do not make a bingo, you will receive 5 Quills in addition to any rewards you may have received for completing the threads used for bingo.
If you complete multiple bingo rows, you will earn 5 Quills for each additional bingo. You cannot claim more than three bingos per card, though there is a separate reward for completing the entire card.
If you complete the entire bingo card, you will earn 15 Quills in addition to any other rewards you may have earned.
Post your bingo cards below. Questions may be directed to the Help Desk
.