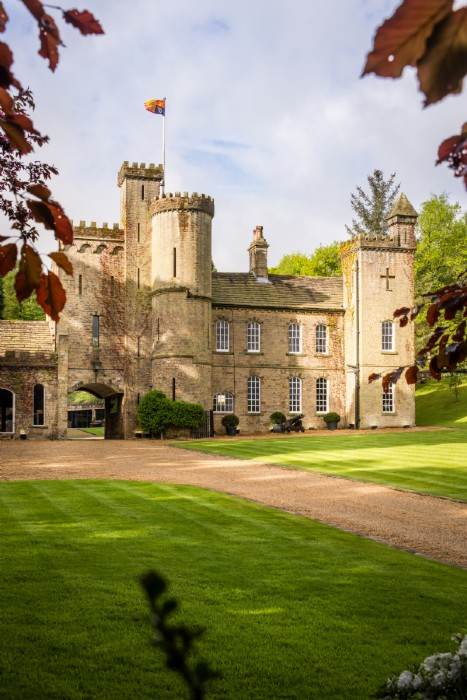 TerrorTours Tuesday: Captivated by Yorkshire County
Full of Roman and Viking heritage, Norman castles, medieval abbeys, and cities ripe with industrial-era history, Yorkshire is a county rich with places to explore using TerrorTours! Magical crafters find their abilities prominent in the steelworks and glass factories, expedition researchers find their calling in the coal mines, herbologists improve their skills in the national parks, and muggle historians prize the areas as key parts of their teachings and field trips. Discover towns and cities with one-of-a-kind cathedrals, castles, architecture – dive into theatre, literature, and the arts – experience one of the most delightful places to live, tour, and explore. Interested? Let's go!

Natural and Medieval Wonders

Yorkshire is one of the most popular English counties for magical folk to study in due to its brimming potential for multiple fields. The Peak District National Park is booming with researchers and tourists; accommodation including Haddon Hall and Chatworth House allow guests to experience a medieval setting; the Dovedale Nature reserve is famous for its epic rock formations perfect for those practising runic magic. Not to mention, the district is renowned for its hiking trails (including the Kinder Scout waterfalls), encompassing villages, museums, and camping grounds. 
The former capital of England, York, is another prime location for magic-users. The residents are adept in using ancient and archaic spells and scrolls found in the York Minster's memorial library, including instructions on how to enchant armour, weapons, and chalices. Within the city is the potioneer's dream; Shambles Street is famous for trinkets, sweet shops, and gifts. However, a snicket within the cobbled pathways leads to another street, bursting with herbology flora and fauna, integral and rare ingredients for potions, and Roman artefacts perfect for enchantments (or hexes).
For those who love the beach, Bridlington is perfect for a seaside adventure. Explore the Sewerby Hall Gardens at a Grand Georgian house – the perfect place for bird watching and picnicking. Bridlington has a higher concentration of magic than other areas in the region, creating a perfect tourist destination for magic folk wanting to explore muggle experiences. The Bayle Museum even features a coin press, allowing knuts to be stamped to look like muggle English pennies. And let's not forget the Bondville Model Village; a piece of art encapsulating an entire village (including a ruined abbey and a castle) in miniature, now enchanted with moving flags, trees, and boats.
Getting There

Want to hop on already? We don't blame you! Yorkshire is a popular location for English magizoologists, herbologists, potioneers, researchers, expeditionists, and historians to visit. Various methods of travel are available. 
The Floo Network is a highly popular option due to the high percentage of Yorkshire townhouses and Bed & Breakfasts offering it as a facility. Many owners of these establishments have even enchanted their fireplace to allow potential visitors to see their accommodation rates and offerings before picking their fireplace.
Tour packages are available directly through TerrorTours, or one of our travel agents is happy to assist you with planning your own independent or company travel. We are proud partners of the Wizarding Expedition Society and Magical Artisans Guild and pride ourselves on our ability to get the magical world's finest creators and explorers where they need to go.
CURRENT TRAVEL ALERTS

Yorkshire is home to some of the rarest English birds, particularly present in the National Parks, including: The Yellow-Bellied Squab, The Five-Eyed Pheasant, The Willoweep Gold Tit, and the Primordial Puffwing. Although these birds may be shy, tourists found altering the environment or attempting to lure out these birds may be punished accordingly by the law.  

Additionally, it is advised not to wander around ginnels between the hours of 2:00 am and 4:00 am due to the increase of runaway armoury, some armed with swords and shields.
Roleplaying in Yorkshire County
Thread Ideas

Shopping in the hidden magical district of York
Attending a ghost tour of muggle dungeons and speaking with the resident ghosts you meet along the way
Collecting plant samples from the national park
Visiting a muggle museum and trying to act natural
Visit Bridlington and explore the seaside, enjoy a basket of fish and chips, and enjoy the pier and rides on the docks
Additional Resources

Need more ideas? Check out this list of 30 must-visit Yorkshire attractions! This is an offsite link that will take you away from Vault713.com.
Don't forget that witches and wizards have access to all of the same transportation resources as non-magical people and more! Your character could visit Yorkshire County for a few weeks, a few days, or even a few hours! Feel free to get creative!